Events & Activities
Cold Springs 3rd Annual Community Garage Sale
Saturday April 29th, 2016 8am-4pm
The Family Center is participating in this year's Cold Springs Community Sale.
We will have maps to participating houses, coffee, snacks, be a restroom stop and have a few items for sale ourselves!
Join us, along with 70+houses, on Saturday April 29th, 8am-4pm.
CSFC 18400 Village Parkway
Please note, the Digital Map will have additional houses who were added after the printing of the map. 
Link to the Digital Map: https://goo.gl/maps/Xk7jfeomaYJ2
Cold Springs Community Garage Sale Map: CS Community Garage Sale Map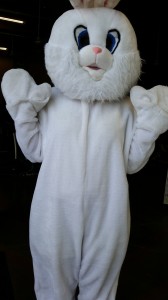 We had a great Easter Event with 5,000 eggs on the field, 250+ prizes including 4 refurbished bikes donated by the Kiwanis' Club, over 50 vendors for our Market & Bazaar, and some hardy runners joining us for our Annual 5K Rabbit Run!
We have a lot of people to thank for helping to make this possible:
Our main sponsors Woodland Village HOA & Lifestyle Homes Foundation; Our many volunteers who spent hours stuffing all those eggs; the donors for the candy, including our friends & shoppers at the Family Dollar Store who donated hundreds of Snicker Bars! And to the staff at the Middle School for allowing us to use the school field – we thank you!
A special thanks to the Sagebrush Livestock 4H group who helped with field set up on Friday, only to return early Saturday to distribute eggs and help coordinate the egg "dash" and then help with clean up. And speaking of Clean up, thank you to the Wolf Den Cub Scout Pack 127 for cleaning up after the hunt.
Thank you to the volunteers who coordinated our 5K Race; to Kerri for coordinating the Market Vendors and everyone who pitched in along the way, both community and staff volunteers!
We will see you next Easter!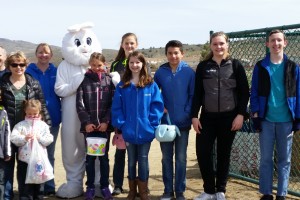 Sagebrush Livestock 4H Volunteers-Thank you!!
***************************************************************************************************************************************************
Saturday, April 15th
The Great Egg Dash   (Egg Hunt)
& Market – Vendor Event
9am -1pm
Easter Flyer: CSFC Easter Event 2017
Join us for a community celebration at our Annual Egg Hunt, with over 5,000 eggs stuffed with toys & candy!
New this year – the Cold Springs Market is joining our Easter Bazaar to present 60+ vendors for you to shop local!
Food & Bounce House Fun!
                 Easter Egg Dash (Hunt): 10AM START! Gates Open: 9:45am
 (Egg Dash (hunt) held at the Cold Springs Middle School baseball field )
1st Group:  Ages 0-2         2nd Group: Ages 3-5          3rd Group: Ages 6-8       4th Group: Ages 8-12          
EGG DASH START TIME PROCEDURE: Group 1 will start at 10am, then group #2, etc.  There will be a short transition time between each group.
  Find eggs filled with tickets to win a special prize including refurbished bikes from the Kiwanis Club!
*************************************************
5k "Rabbit Run" – 8:30am start
Run or Walk at our Annual Rabbit Run!  Find 2 eggs on the route & be eligible for great prizes.  Entry includes a t-shirt (register by 4/12):
Members $20       Members $25       Youth ($18 and under) $15
 The Cold Springs Market is BACK for 2017!!
Held at the CSFC - 2nd Saturday of Every Month
May – October 9am-3pm
 Back by popular demand our own, local monthly Market will kick off at our Easter Event (9am-1pm)!
We have NEW vendors who will bring us healthy, tasty, local food.  Artisans will share their unique talents with a variety of craft & vendor booths, not to mention some of your favorite brand products will also be here. These are family events with bounce houses & food options to give you a great, local day out!
Vendors: For more information about participating in the CS Market Events, please call the Family Center or e-mail: coldspringsmarket@gmail.com
All Proceeds from the Easter Event & Markets benefit the Cold Springs Family Center.
BIG THANKS to our community volunteers who coordinate the C.S. Market and those who stuff eggs, donate candy & volunteer at the Easter Hunt.
A Special thanks to our donors and sponsors: Woodland Village HOA & Lifestyle Homes Foundation*Kiwanis Club* Village Grill*Bordertown
Donate Blood Sat. April 15th
The United Blood Service Blood Mobile will be here Saturday April 15th, 9:30-1.
Call the CSFC @ 775-657-6388 to schedule a time to donate.
**Donate blood on Saturday and we will waive the normal $50 initiation fee if you sign up for a CSFC membership**
***********************************************************************************************